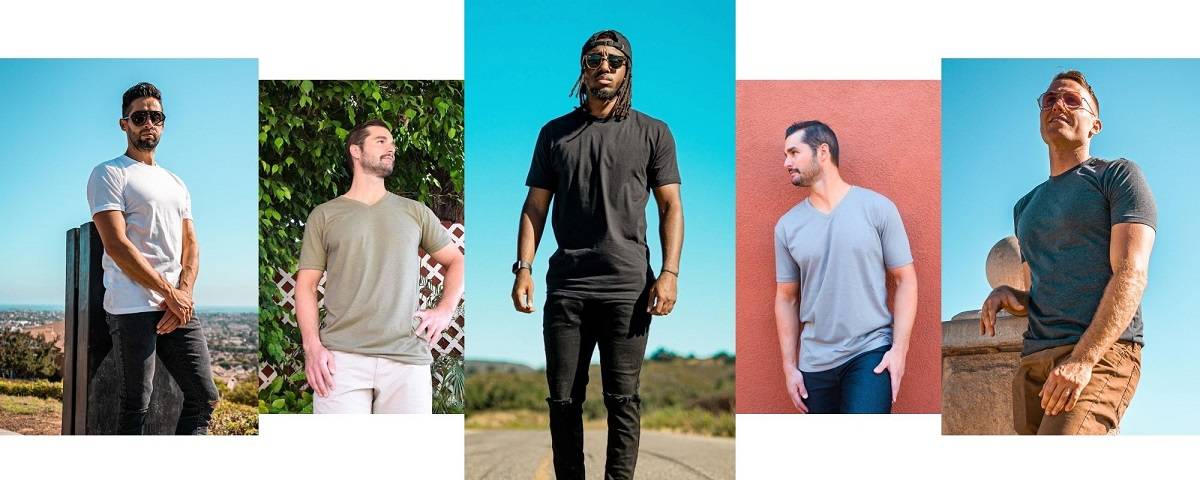 15 Types of Shirts You Didn't Know Until Now – Modern Man Attire
T-shirts
– a wardrobe essential we cannot imagine our lives without. This versatile piece comes in an array of different colors, styles, neck types, sleeve lengths, and colors, allowing us to choose an adequate model for every occasion we're attending.
An initial idea of a T-shirt started in late 1800, and it had a lot to do with workwear. However, its concept has undergone significant transformations until it became a quintessential piece every man has in his closet. Its evolution has contributed to creating different types of shirts we know today, including crewnecks, V-necks, Henley-collars, polos, and more.
Are you ready to dive into the 15 essential types of tees and the best ways of styling them?
Let's begin then!
1. Crewneck T-Shirt Styles
Crewneck T-shirts
are among the most popular shirt types. Although they feature a basic design and overall casual flair, a crewneck tee is the most versatile model you can wear in many different outfits. It is characterized by a round neckline that suits most body types.
A classic crewneck works perfectly with jeans, trousers, even suits. When paired with adequate pieces, a crewneck T-shirt may become your go-to choice for various events, from casual to smart-casual ones.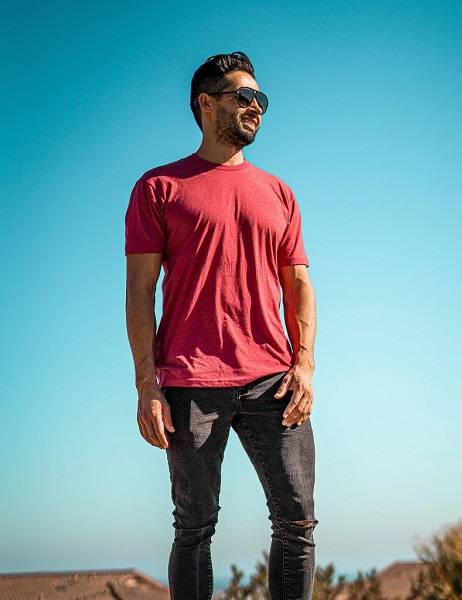 V-necks
are another famous garment men prefer to wear. It is considered less formal than its crewneck counterpart, primarily because it enhances the chest part and adds visual interest and style. It is suitable for shorter men since it delivers a bit of height to the overall appearance. Besides, it compliments guys with rounder or wider faces.
You have tons of opportunities when it comes to styling a V-neck. Wear it under a blazer or with tailored pants, and feel free to experiment with different colors. While neutral colors are suitable for layering, vibrant tones are a great way to add a dose of personality to your overall look.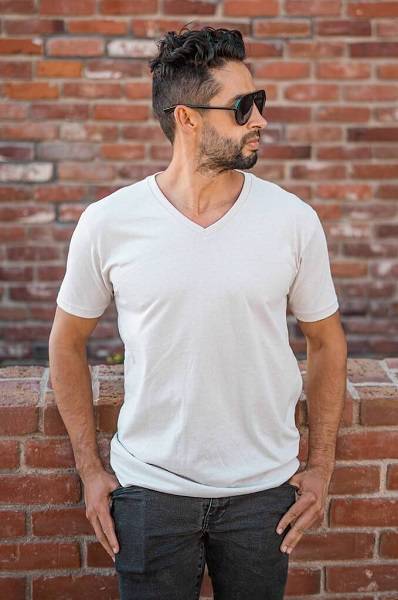 The ringer T-shirt may remind you of a basic crewneck tee. However, the trick is in detail. The ringer tee is characterized by contrast bands around the sleeve hems and neckline. It is a subtle detail at first glance, but we must admit that it provides the shirt with a unique touch that cannot go unnoticed.
Most ringer shirts used to be white with black ribbing, but such style has changed over the years. Although the ringer tee was prevalent in the rock-and-roll subculture and young population, it soon became a staple in men's retro T-shirt collection.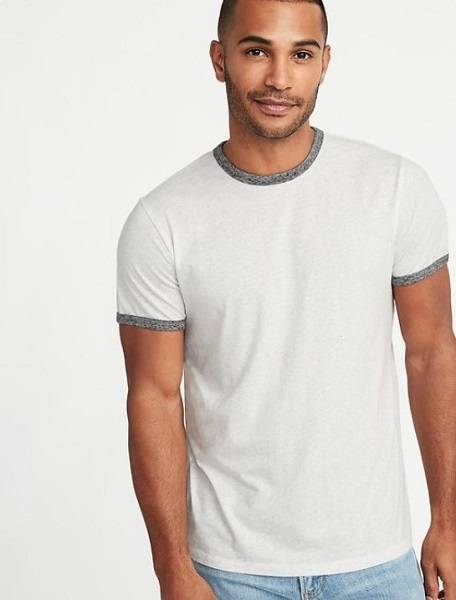 Image source: pinterest/oldnavy.gap.com
A pocket T-shirt is one of the most popular shirt types. There is nothing eccentric or exceptionally unique about it, but the truth is that guys fall for a subtle yet appealing pocket detail, after which this shirt got its name.
Many guys see the pocket not only as an aesthetically appealing detail but also as a functional one. This type of T-shirt features a distinctive flair, ideal for those who want to upgrade their closet and step out of a classic tee style.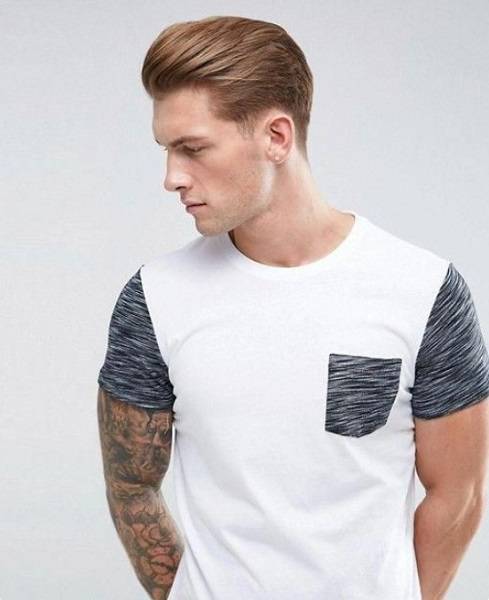 Image source: pinterest/fashionlooks.us
5. Cap-Sleeve T-Shirt Styles
The cap-sleeve T-shirt is a classic crew neck tee characterized by its cap sleeves. Since the sleeves are much shorter than those on a regular tee, they might be convenient for guys who don't like sleeveless tees but want something different than classic models.
A cap-sleeve tee is an excellent fashion statement that encourages you to try something new and take your everyday style to the next level.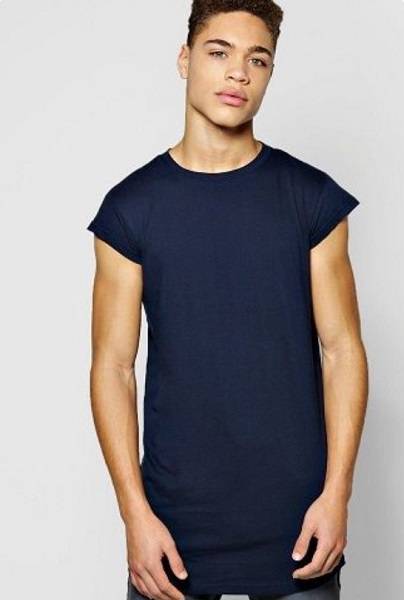 Image source: pinterest/stylesatlife.com
Yes, there is a type of T-shirt suitable for weightlifters who want to show off their muscles. The muscle T-shirt model is much more tight-fitting than a classic tee, and it is convenient for those who want to achieve the muscular look they want and enhance their athletic build and posture.
Image source: pinterest/rebelsmarket.com
The polo shirt is a well-known type of T-shirt that used to be prevalent among golfers and tennis players. However, this unique model has become a staple among guys who want to embrace a timeless style inspired by Fred Perry and Rene Lacoste.
The polo-collar T-shirt will make you stand out, whether you're hanging out with friends or getting ready for a round of golf or tennis match.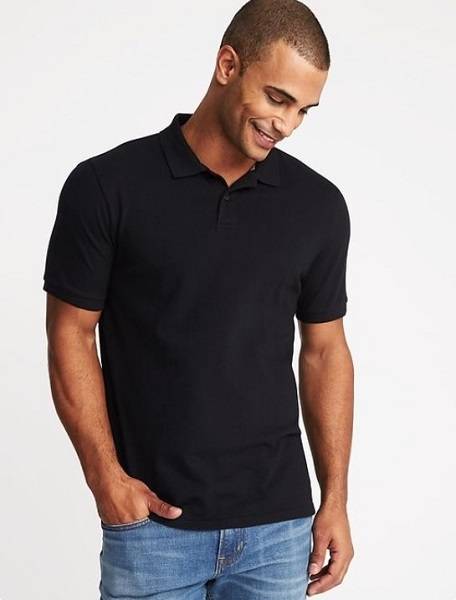 Image source: pinterest/oldnavy.gap.com
8. Scoop-Neck T-Shirt Styles
The scoop-neck types of a T-shirt might remind you of a typical crewneck tee, but these styles differ from each other. The scoop-neck tee features a rounded neckline that hangs a few inches below the collarbone, and it fits different body types and builds.
This type of T-shirt can be very flattering, encouraging you to leave your comfort zone for a moment. It comes in different colors and styles, allowing you to pick what suits you the most and what you want to enhance.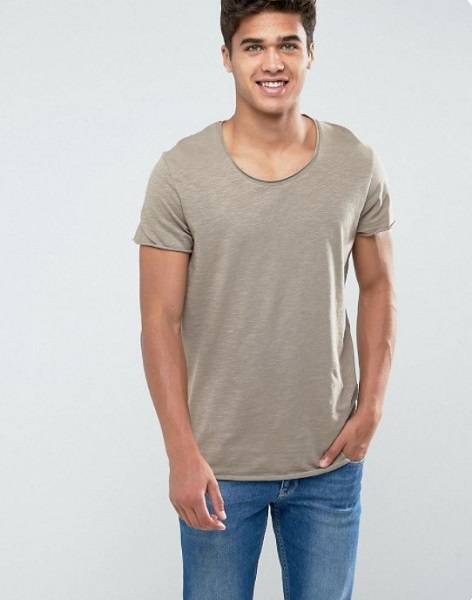 Image source: pinterest/us.asos.com
9. Henley-Collar T-Shirt Styles
The Henley-collar tee is a unique piece you can wear to enhance your gentleman's side. It is characterized by a buttoning placket below the neckline, ideal for guys with a well-built, muscular chest.
The buttoning detail boosts the overall aesthetic appeal, allowing you to express your masculinity and handsomeness.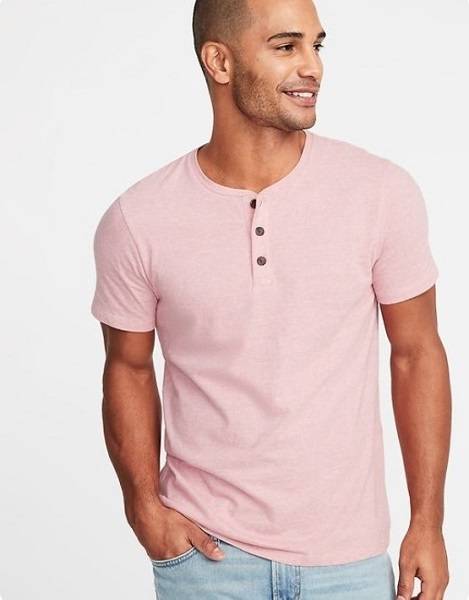 Image source: pinterest/oldnavy.gap.com
10. Singlet T-Shirt Styles
The singlet T-shirt is also known as the half T-shirt, and both terms refer to a sleeveless tee. It differs from other types of men's shirts mostly because it has no sleeves, but its shape resembles a vest. It is suitable for those who want to show off their muscles and athletic build. The singlet shirt is prevalent among basketball players and gym-goers.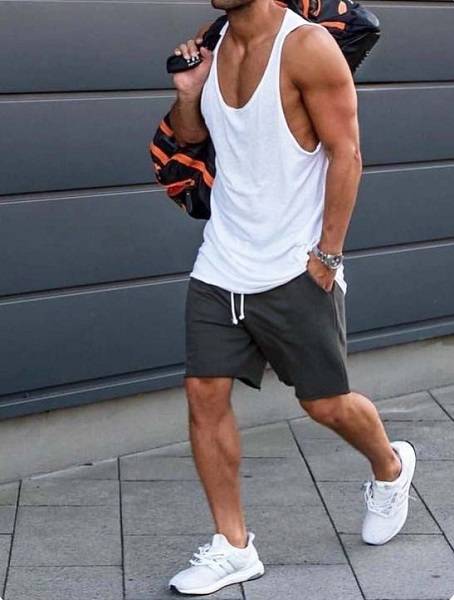 Image source: pinterest/machomoda.com.br
11. Turtleneck T-Shirt Styles
As its name says, the turtleneck T-shirt features a specific turtleneck collar suitable for chilly days. This fashion statement reflects a sleek, trendy vibe that should not be underestimated until tried. You can wear them whenever you want to make a statement or modify your everyday outfits.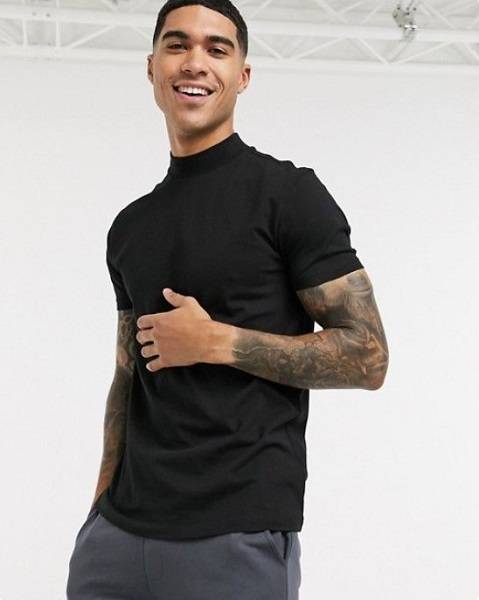 Image source: pinterest/asos.com
12. Longline T-Shirt Styles
Let's take a look at some different T-shirt styles. The longline T-shirt is unique due to its torso length. Many longline tee models reach down to the knees, making it look like a dress. You may see this style worn by rappers or hip-hop dancers.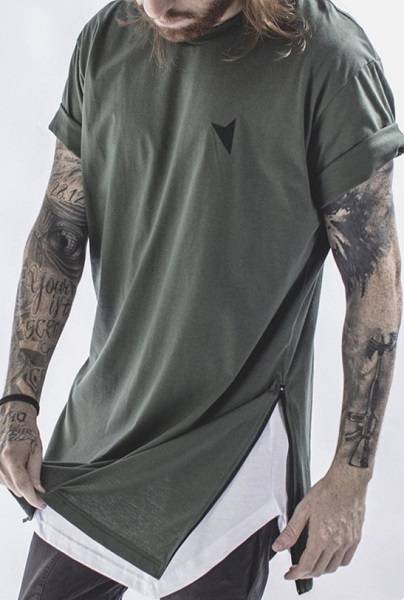 Image source: pinterest/machomoda.com.br
13. Baseball T-Shirt Styles
This type of T-shirt resembles classic baseball uniforms, which is why it's known as the baseball T-shirt. It features a Raglan-sleeve style, characterized by half-sleeve, and it is available in many different color variations you can wear whenever you need an extra dose of comfort and casual flair to enhance your laidback style.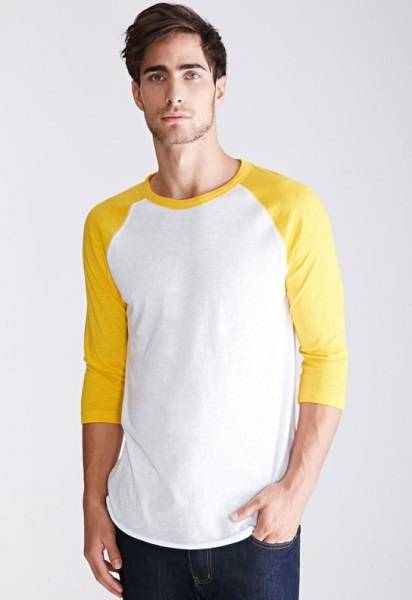 Image source: pinterest/forever21.com
14. Hooded T-Shirt Styles
Hooded tees are trendy among athletes and football players. Still, this garment features an athleisure appeal perfect for gym travels or casual days you want to spend with comfort and style. These models come in different colors and designs, and they are great for adding a bold touch to your personal style.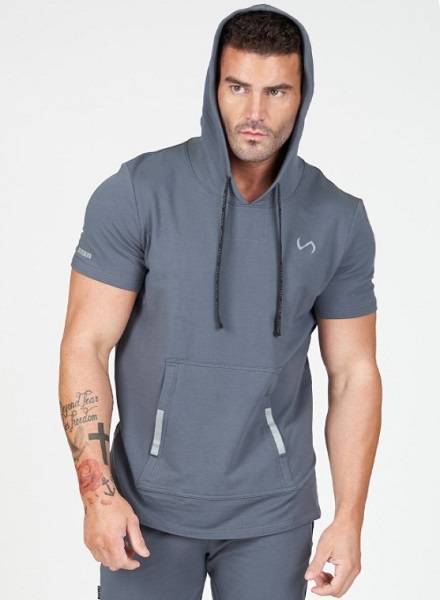 Image source: pinterest/tlfapparel.com
15. Graphic/Printed/Plain T-Shirt Styles
Some guys may choose a tee based on its overall design. You can find a wide variety of tees featuring a graphic, printed, or plain style, and you're encouraged to go for one according to your taste and personal flair.
While plain tees are the most versatile choice that works perfectly in different combinations, graphic and printed styles may be convenient for making a statement or embracing a bold flair.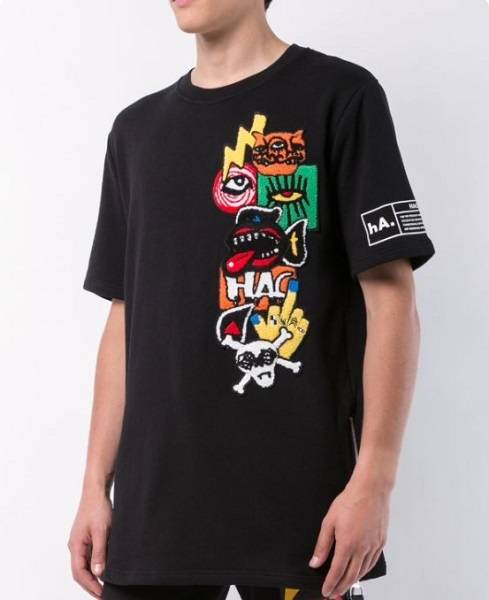 Image source: pinterest/farfetch.com
3 Stylish & Useful Tips for Choosing the Right Type of T-Shirt
Guys tend to choose particular T-shirt types based on their style and what attributes they want to highlight. Still, it is crucial to know that not all the types are convenient for every event, no matter how great you look in your tee.
Let's go through the 3 useful tips for picking a go-to T-shirt.
Think about when and where you are going to wear a T-shirt when shopping for one. That way, you can narrow your options and pick an adequate type. Avoid casual tees for business settings or school functions but go for smarter designs that meet the event's dress code.
2. Choose Shirt Shapes that Match Your Body Type
Even the best tee in the world may be wrong if it doesn't fit you well. That said, you should look for models and types that match your build and enhance your best attributes. If you want to emphasize broad shoulders or a well-built chest, you should go for V-necks or Henley-collar tees, while raglan sleeves may help you accentuate your biceps' natural musculature.
T-shirts require minimal styling, which is why they're relatively easy to wear. However, some occasions may call for accessories such as watches, belts, or bracelets that match your T-shirt's colors and overall design.
You may upgrade your classic style by pairing a tee with a blazer, suit, or a pair of dress pants. Such apparel is convenient for smart-casual occasions where you want to look effortlessly elegant.